How to Oil Your Scissors | LDH Scissors
How to oil your scissors.
Fabric scissors can be a funny thing. They're a tool that we sometimes don't treat like a tool, forgetting that they need maintenance just like our sewing machines and sergers. And just like those machines, one of the best things we can do to keep our scissors in tip-top shape is to clean and oil them! Don't know how to oil them? Let us take you through the steps!
When you receive a pair of our scissors, they'll likely be covered in a coating of oil. This is especially true if you ordered a pair of our Midnight Edition scissors or Traditional scissors. The oil on the scissors is the same oil you can use on your sewing machine. The reason we oil our scissors for shipping is twofold: first, it ensures that your scissors are protected from temperature and humidity fluctuations during shipping. This could lead to rust developing on non-stainless steel scissors, like our carbon steel Midnight Edition and Traditional scissors. Second, it ensures that your scissors arrive feeling ultra smooth. We always recommend that the oil is wiped off with a piece of scrap fabric before you use them, as the oil will stain any fabric or fiber it gets on. Wiping the oil off before use also has the added benefit of cleaning your scissors, ensuring it's free of any dust particles or little fibers!
When and how often should you oil your scissors? We recommend oiling your scissors whenever they start to feel a little rough - when it happens, you'll know the feeling. The exact time will vary person to person, and depends on how often they're being used and on what kind(s) of materials. For example, we typically see that fiber artists (weaving, macrame, rug hooking, felting, etc) need to oil their scissors more frequently than garment sewers because of the amount of fibers that can accumulate on the scissors. Without wiping them down regularly, those fibers can cluster near and in the button of the scissor, which can make them feel rough and unusable until cleaned and oiled.
Here's what you'll need to oil your scissors: 
Your scissors, of course!
A piece of scrap fabric.
A small bowl with around a teaspoon of oil. You can use any oil you have, we've even used olive oil.
A cutting mat.

We like to oil our tools on a cutting mat because they're easy to wipe clean afterwards! 

1. If your scissors are covered in fiber, take your dry fabric piece and gently wipe the blades down.
2. Submerge and saturate your piece of fabric in the oil.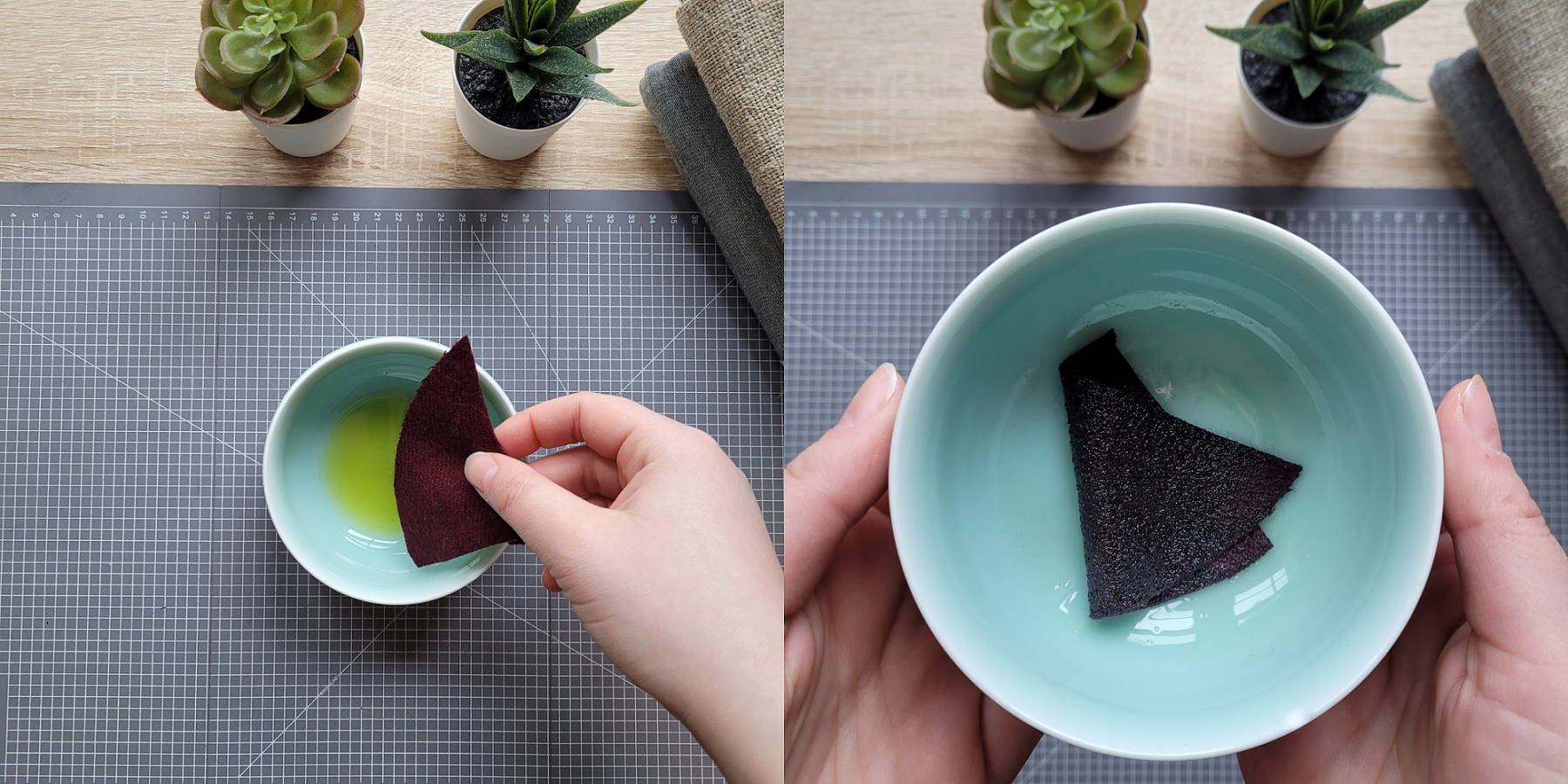 3. Open your scissors so that you can access the inner part of the blades below the button and give it a good wipe with your oily fabric. Repeat on both sides of the scissor. Work the oil in by opening and closing your scissors a couple of times before moving on.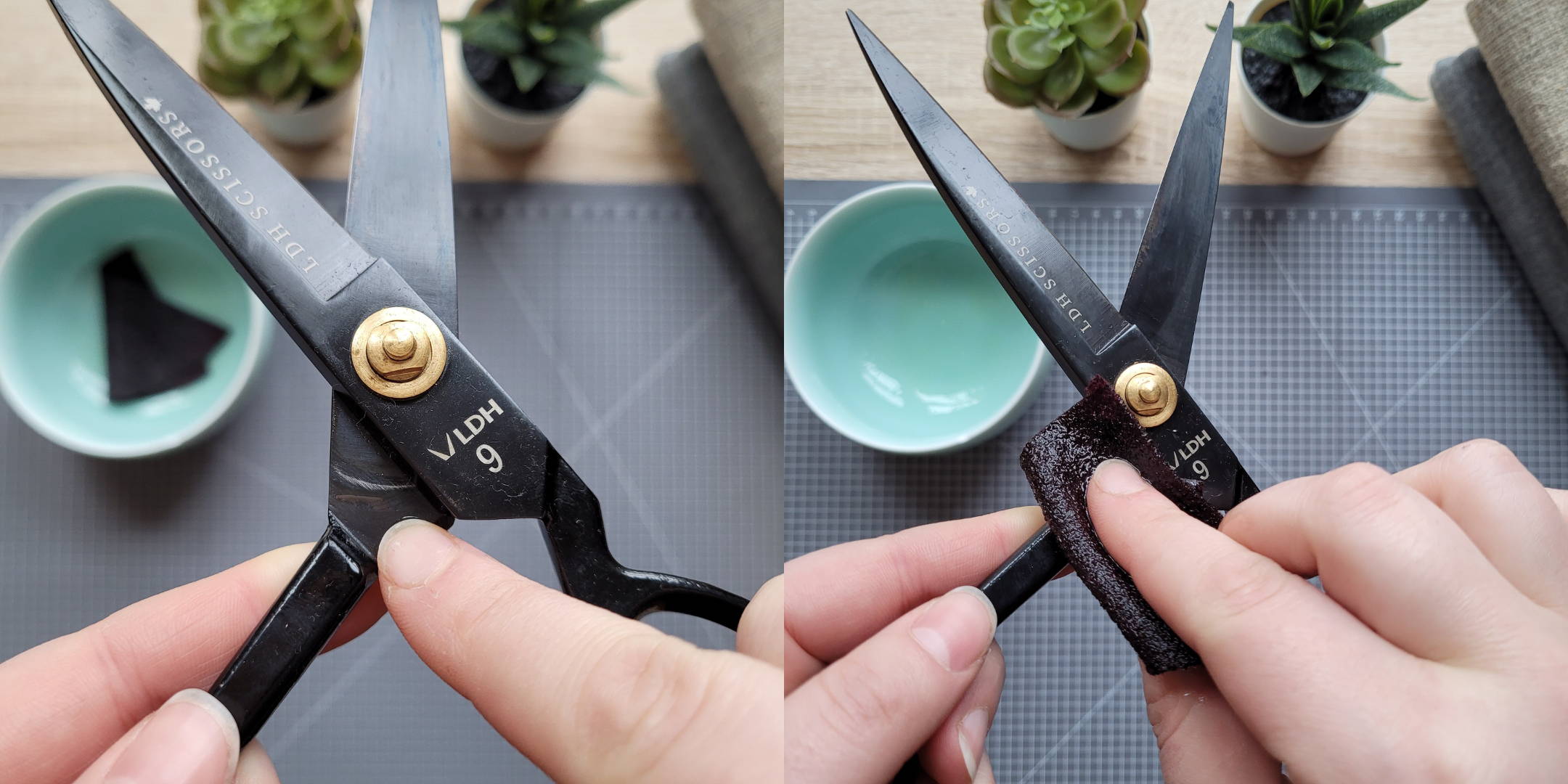 4. Use the fabric to oil the entire scissor, on the outside and inside of the blades, being careful on the sharp edges. When you oil the button of the scissor, don't be afraid to really rub the oil in. The more oil you can get into the button, the smoother your scissor will be! If you're using a thin piece of fabric, try sliding the edge of it into the space between the blades around the button.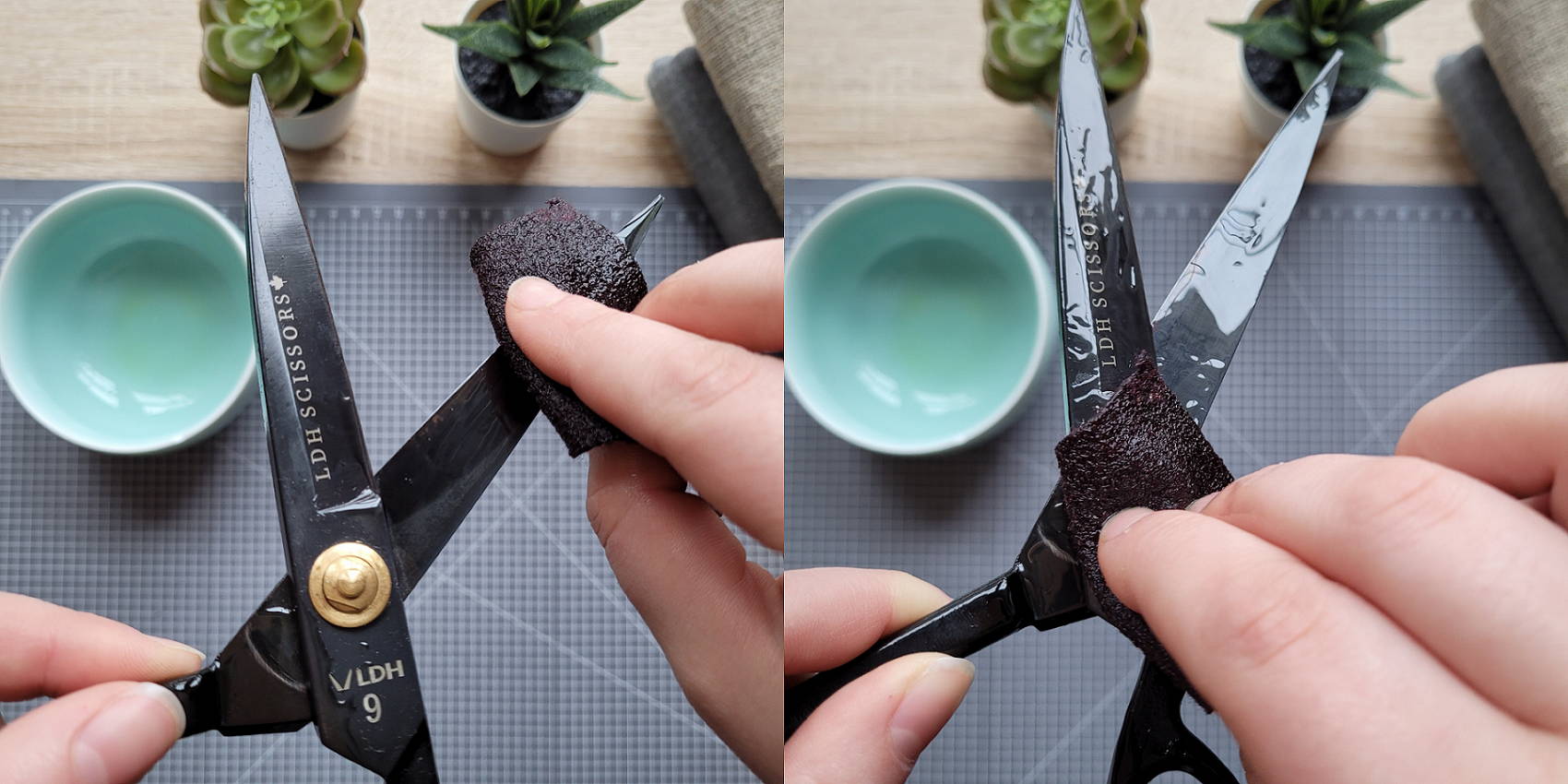 5. Store your scissors in either the box they came with or on a flat surface, like a cutting mat. We recommend leaving the oil on your scissors for a couple of hours, but the more time it gets to sit in and around the button, the better it will feel. The next time you want to use your scissors, wipe off all of the oil with a piece of fabric and you're good to go!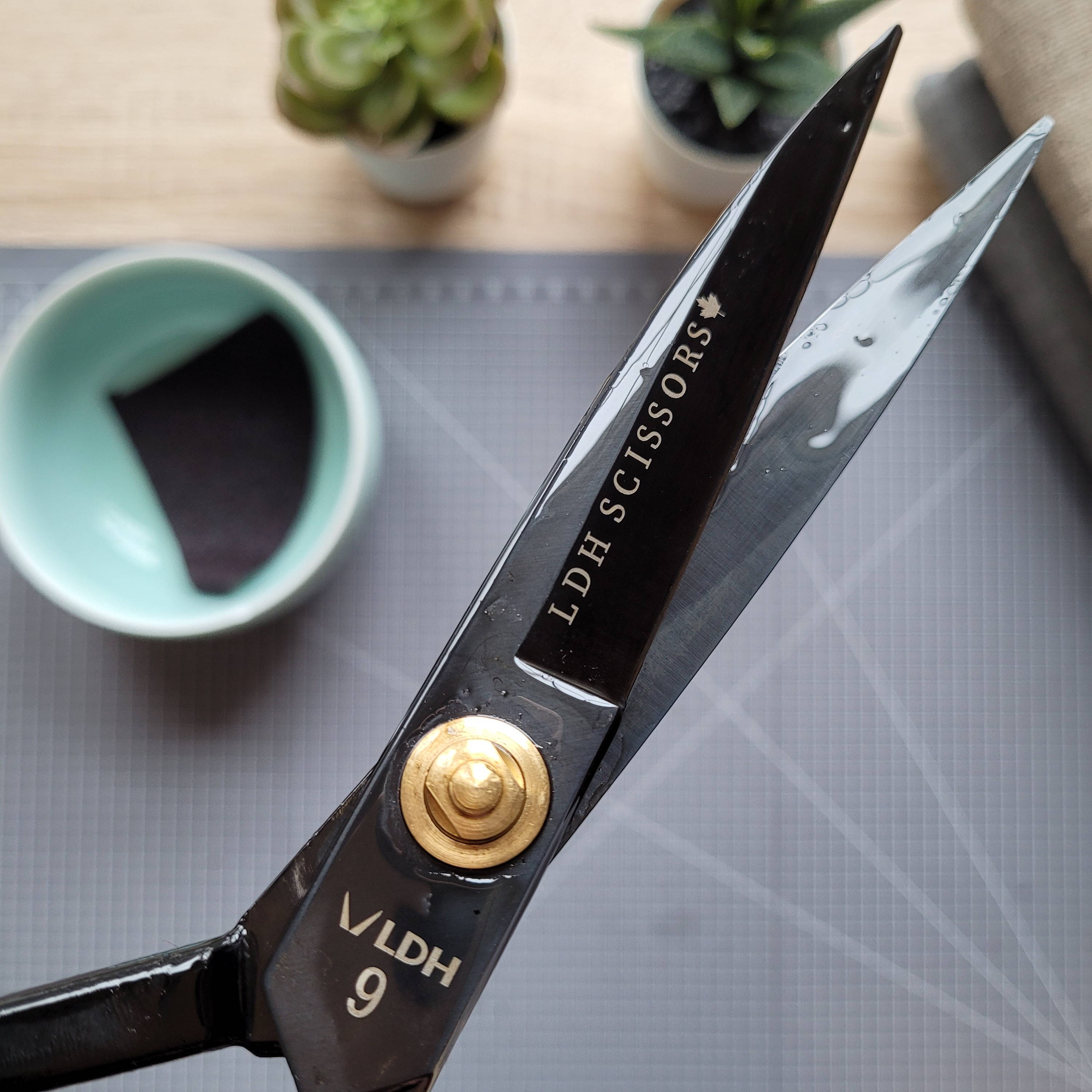 Pro tip! Don't throw out your oily piece of fabric, store it in a container for next time! A little oil will last a long time and won't dry out.
We also have a video showing this process on our Instagram, and if you have any questions, feel free to reach out anytime!
---
1 comment
---
---